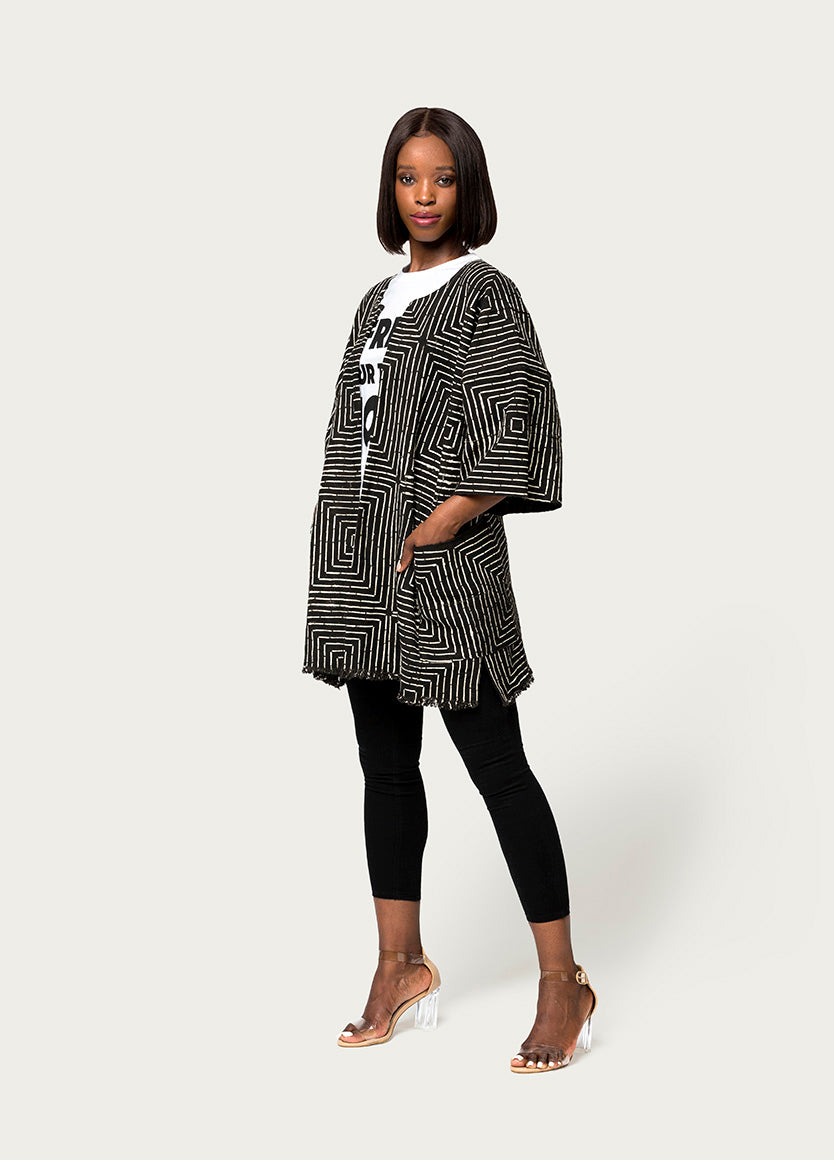 THREADED TRIBES
Frequency Cloak
The Frequency Cloak is crafted from Bògòlanfini (mudcloth), an organic cotton and naturally dyed fabric, sustainably sourced in Mali. Each cloak is a unisex oversized fit and is hand painted, wear them open and loose or tied close. Layer this cloak over your favourite turtleneck and wide trousers for a simple winter look. 
Made in: Ghana
Composition: 100% Cotton Bògòlanfini
Fit: One Size
Product Measurements:
Across Back - 81cm
Pit to Pit - 81 cm
Length - 81cm
Care Instructions: Dry Clean/ Air Dry
ABOUT Threaded Tribes
Threaded Tribes is a Ghanaian-owned fashion brand that aims to embolden and reinforce their community's courage to be themselves through comfort and style. All their garments are produced in Accra, using fabric sourced in Africa.
Size Guide
This size guide should be used as a guideline. Sizes may vary due to individual variances that may affect sizing. For information specific to the product, please refer to the product details on the product's page.
Should you require further assistance, please email Customer Care at customercare@merchantsonlong.com or call our Customer Care Line 083 556 0128, Mondays to Fridays 9am – 5pm. Emails sent on public holidays or over the weekend will be answered the following business day.
WOMEN'S APPAREL
XS
S
M
L
XL
XXL
UK
6
8
10
12
14
16
US
2
4
6
8
10
12
Combined Sizes
S - M      
L - XL      
WOMEN'S APPAREL - Resort & Swimwear
| | XS | S | M | L | XL | XXL |
| --- | --- | --- | --- | --- | --- | --- |
| UK | 8 | 10 | 12 | 14 | 16 | - |
| US | 0 | 2-4 | 6-8 | 8-10 | 12 | - |
| Bikini Top | A | A/B | B/C | C/D | D | - |
MEN'S APPAREL - Coats, Blazers and Jackets
| | XS | S | M | L | XL | XXL |
| --- | --- | --- | --- | --- | --- | --- |
| UK | 34-36 | 38 | 38-40 | 42-44 | 46 | - |
| US | 34-36 | 38 | 38-40 | 42-44 | 46 | - |
MEN'S APPAREL – Shorts and Trousers
| | XS | S | M | L | XL | XXL |
| --- | --- | --- | --- | --- | --- | --- |
| UK | 32 | 34 | 36 | 38 | 40 | - |
| US | 32 | 34 | 36 | 38 | 40 | - |
SHOES – Men's and Women's
| UK | EU | US |
| --- | --- | --- |
| 3 | 36 | 5.5 |
| 4 | 37 | 6.5 |
| 5 | 38 | 7.5 |
| 6 | 39 | 8.5 |
| 7 | 40 | 9.5 |
| 8 | 41 | 10 |
| 8.5 | 42 | 11 |
| 9.5 | 43 | 12 |
| 10.5 | 44 | 13 |
| 11.5 | 44 | 14 |
| 12.5 | 46 | 15 |
BABY APPAREL – Tops and Bottoms
| AGE | HEIGHT (cm) | CHEST (cm) | WAIST (cm) |
| --- | --- | --- | --- |
| 1 – 3 Months | 62 | 43 | 44 |
| 3 – 6 Months | 68 | 45 | 46 |
| 6 -9 Months | 74 | 47 | 48 |
| 9 – 12 Months | 80 | 49 | 50 |
| 12 – 18 Months | 86 | 40 | 51 |
| 18 – 24 Months | 92 | 53 | 52 |
| 24 – 36 Months | 98 | 55 | 53 |
BABY SHOES
| AGE | UK | EU | US | Measurement (cm) |
| --- | --- | --- | --- | --- |
| 0 – 3 Months | 0 | 16 | 1 | 9 - 10.7 |
| 3 – 6 Months | 1 | 17 | 2 | 10.8 – 11.6 |
| 6 -12 Months | 2 | 18 | 3 | 11.6 – 12.2 |
| 12 – 18 Months | 3 | 19 | 4 | 12.4 - 13 |