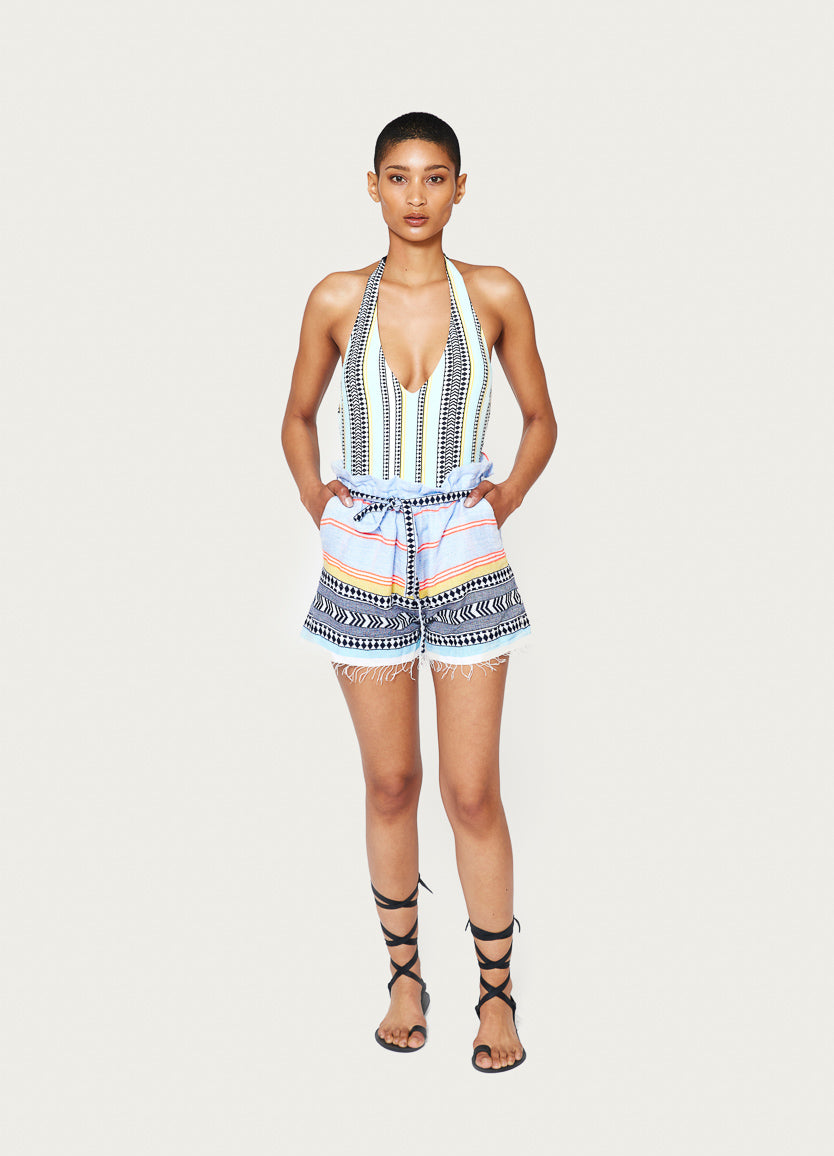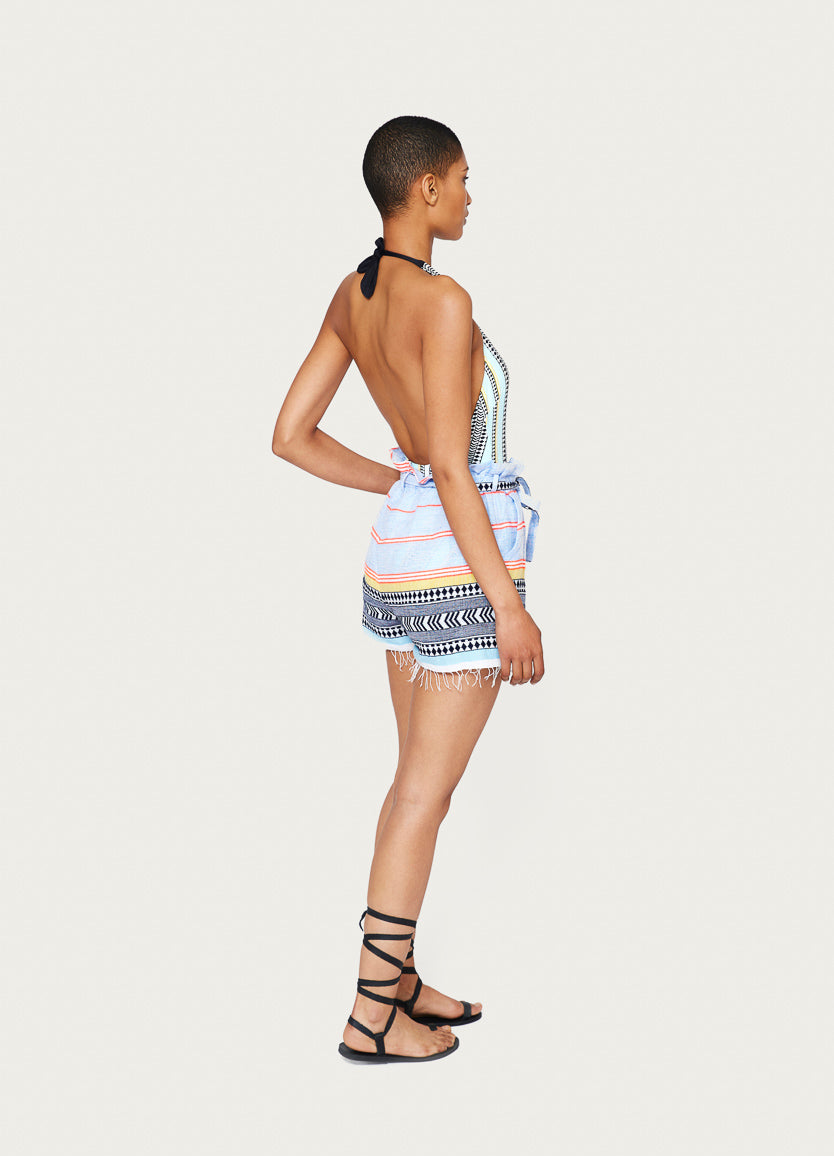 LEMLEM
Neela Tie Belt Shorts Lightblue
Lemlem's Neela Tie Belt Shorts are high waisted with a tie belt, pockets and a twisted fringe hem handmade by Ethiopian artisans using locally grown cotton. The handwoven textile is decorated with Lemlem's signature handwoven Tibeb pattern. Each piece is individually cut and sewn by the artisan.

Shown here with Lemlem Deep V Neck Swimsuit.
Made in: Ethiopia
Composition: 85% cotton, 15% acrylic
Model is 172cm and is wearing a size small
Fit: True to size
Care instructions: Dry clean
Neela Tie Belt Shorts Lightblue
ABOUT LEMLEM
Lemlem (which means 'to flourish or bloom' in Amharic) is an artisan-driven brand of beautiful resort womenswear made entirely and responsibly in Africa, with a core mission of preserving the local art of weaving in Ethiopia and inspiring economic growth on the continent. Recognizing the beauty, quality and historic significance of their work, Ethiopian-born supermodel Liya Kebede started Lemlem in 2007 as a way to inspire economic independence in her native country and to preserve the art of weaving. Lemlem has since expanded its presence in Kenya with ready-to-wear and Morocco with swimwear. 
Stocked at Merchants on Long since 2011.
Size Guide
This size guide should be used as a guideline. Sizes may vary due to individual variances that may affect sizing. For information specific to the product, please refer to the product details on the product's page.
Should you require further assistance, please email Customer Care at customercare@merchantsonlong.com or call our Customer Care Line 083 556 0128, Mondays to Fridays 9am – 5pm. Emails sent on public holidays or over the weekend will be answered the following business day.
WOMEN'S APPAREL
XS
S
M
L
XL
XXL
UK
6
8
10
12
14
16
US
2
4
6
8
10
12
Combined Sizes
S - M      
L - XL      
WOMEN'S APPAREL - Resort & Swimwear
| | XS | S | M | L | XL | XXL |
| --- | --- | --- | --- | --- | --- | --- |
| UK | 8 | 10 | 12 | 14 | 16 | - |
| US | 0 | 2-4 | 6-8 | 8-10 | 12 | - |
| Bikini Top | A | A/B | B/C | C/D | D | - |
MEN'S APPAREL - Coats, Blazers and Jackets
| | XS | S | M | L | XL | XXL |
| --- | --- | --- | --- | --- | --- | --- |
| UK | 34-36 | 38 | 38-40 | 42-44 | 46 | - |
| US | 34-36 | 38 | 38-40 | 42-44 | 46 | - |
MEN'S APPAREL – Shorts and Trousers
| | XS | S | M | L | XL | XXL |
| --- | --- | --- | --- | --- | --- | --- |
| UK | 32 | 34 | 36 | 38 | 40 | - |
| US | 32 | 34 | 36 | 38 | 40 | - |
SHOES – Men's and Women's
| UK | EU | US |
| --- | --- | --- |
| 3 | 36 | 5.5 |
| 4 | 37 | 6.5 |
| 5 | 38 | 7.5 |
| 6 | 39 | 8.5 |
| 7 | 40 | 9.5 |
| 8 | 41 | 10 |
| 8.5 | 42 | 11 |
| 9.5 | 43 | 12 |
| 10.5 | 44 | 13 |
| 11.5 | 44 | 14 |
| 12.5 | 46 | 15 |
BABY APPAREL – Tops and Bottoms
| AGE | HEIGHT (cm) | CHEST (cm) | WAIST (cm) |
| --- | --- | --- | --- |
| 1 – 3 Months | 62 | 43 | 44 |
| 3 – 6 Months | 68 | 45 | 46 |
| 6 -9 Months | 74 | 47 | 48 |
| 9 – 12 Months | 80 | 49 | 50 |
| 12 – 18 Months | 86 | 40 | 51 |
| 18 – 24 Months | 92 | 53 | 52 |
| 24 – 36 Months | 98 | 55 | 53 |
BABY SHOES
| AGE | UK | EU | US | Measurement (cm) |
| --- | --- | --- | --- | --- |
| 0 – 3 Months | 0 | 16 | 1 | 9 - 10.7 |
| 3 – 6 Months | 1 | 17 | 2 | 10.8 – 11.6 |
| 6 -12 Months | 2 | 18 | 3 | 11.6 – 12.2 |
| 12 – 18 Months | 3 | 19 | 4 | 12.4 - 13 |