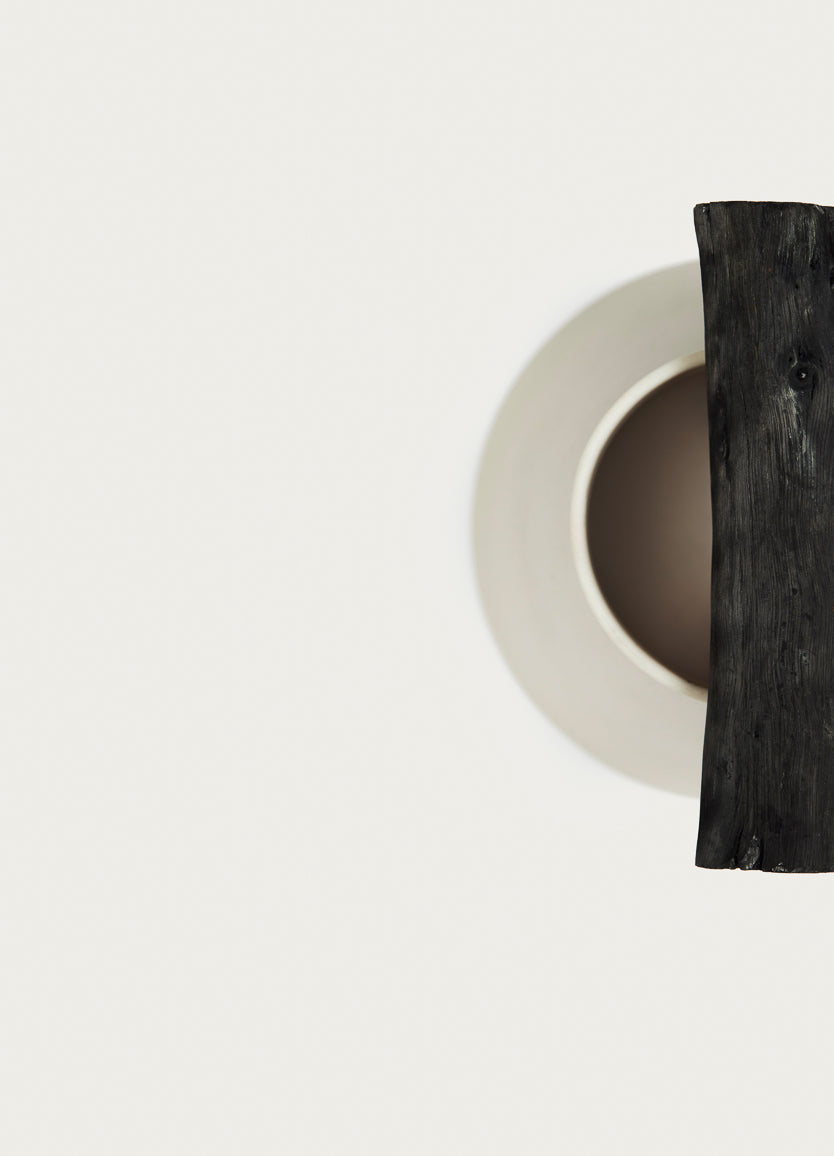 FRAZER
Binchotan Diffuser
Description
Details
Ingredients
This aroma diffuser from Frazer Parfum is made of a translucent porcelain vessel with Binchotan charcoal and a dropper bottle of Cederberg essential oils. Celebrated for their attention to well-being, Frazer Parfum incorporated 75% of organic ingredients in this product.



Made in: South Africa
Top notes: Mint, flowering topsHeart notes: green leaves, blue rosemary, geranium Base notes: thyme
30ml
Each bottle contains 20% chemotyped essential oils for potency. 99,5% of the total ingredients are from natural origin.75% of the total ingredients are from organic farming.
ABOUT Size Guide
This size guide should be used as a guideline. Sizes may vary due to individual variances that may affect sizing. For information specific to the product, please refer to the product details on the product's page.
Should you require further assistance, please email Customer Care at customercare@merchantsonlong.com or call our Customer Care Line 083 556 0128, Mondays to Fridays 9am – 5pm. Emails sent on public holidays or over the weekend will be answered the following business day.
WOMEN'S APPAREL
XS
S
M
L
XL
XXL
UK
6
8
10
12
14
16
US
2
4
6
8
10
12
Combined Sizes
S - M      
L - XL      
WOMEN'S APPAREL - Resort & Swimwear
| | XS | S | M | L | XL | XXL |
| --- | --- | --- | --- | --- | --- | --- |
| UK | 8 | 10 | 12 | 14 | 16 | - |
| US | 0 | 2-4 | 6-8 | 8-10 | 12 | - |
| Bikini Top | A | A/B | B/C | C/D | D | - |
MEN'S APPAREL - Coats, Blazers and Jackets
| | XS | S | M | L | XL | XXL |
| --- | --- | --- | --- | --- | --- | --- |
| UK | 34-36 | 38 | 38-40 | 42-44 | 46 | - |
| US | 34-36 | 38 | 38-40 | 42-44 | 46 | - |
MEN'S APPAREL – Shorts and Trousers
| | XS | S | M | L | XL | XXL |
| --- | --- | --- | --- | --- | --- | --- |
| UK | 32 | 34 | 36 | 38 | 40 | - |
| US | 32 | 34 | 36 | 38 | 40 | - |
SHOES – Men's and Women's
| UK | EU | US |
| --- | --- | --- |
| 3 | 36 | 5.5 |
| 4 | 37 | 6.5 |
| 5 | 38 | 7.5 |
| 6 | 39 | 8.5 |
| 7 | 40 | 9.5 |
| 8 | 41 | 10 |
| 8.5 | 42 | 11 |
| 9.5 | 43 | 12 |
| 10.5 | 44 | 13 |
| 11.5 | 44 | 14 |
| 12.5 | 46 | 15 |
BABY APPAREL – Tops and Bottoms
| AGE | HEIGHT (cm) | CHEST (cm) | WAIST (cm) |
| --- | --- | --- | --- |
| 1 – 3 Months | 62 | 43 | 44 |
| 3 – 6 Months | 68 | 45 | 46 |
| 6 -9 Months | 74 | 47 | 48 |
| 9 – 12 Months | 80 | 49 | 50 |
| 12 – 18 Months | 86 | 40 | 51 |
| 18 – 24 Months | 92 | 53 | 52 |
| 24 – 36 Months | 98 | 55 | 53 |
BABY SHOES
| AGE | UK | EU | US | Measurement (cm) |
| --- | --- | --- | --- | --- |
| 0 – 3 Months | 0 | 16 | 1 | 9 - 10.7 |
| 3 – 6 Months | 1 | 17 | 2 | 10.8 – 11.6 |
| 6 -12 Months | 2 | 18 | 3 | 11.6 – 12.2 |
| 12 – 18 Months | 3 | 19 | 4 | 12.4 - 13 |