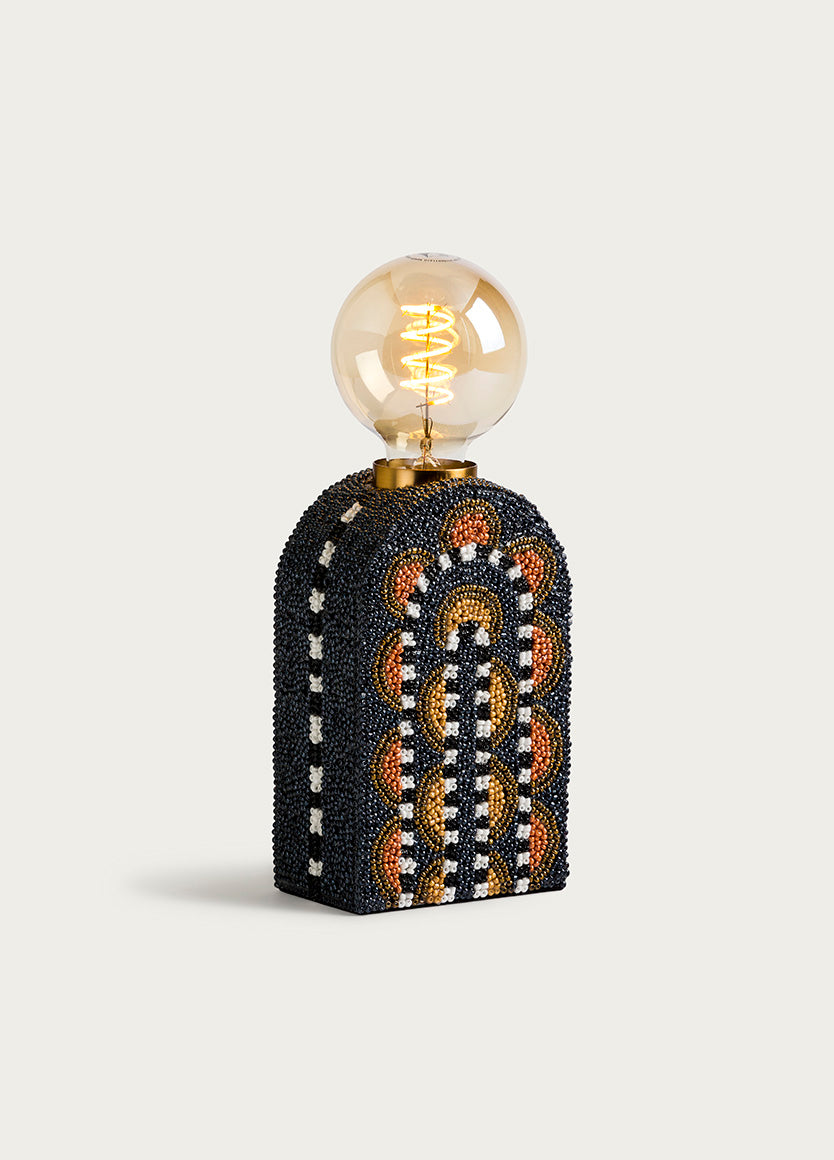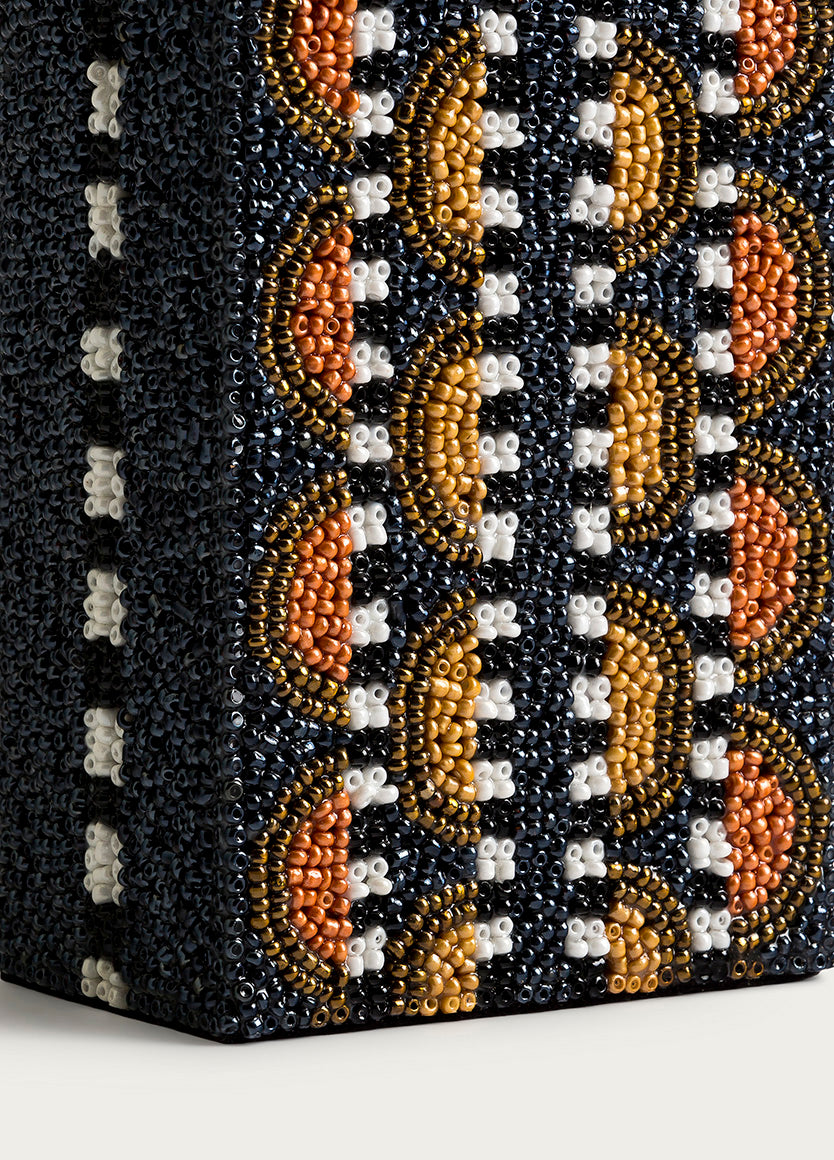 ANANTA
Maata Light Navy & Orange
'Maata Pita' is Hindi for Mother and Father, for sisters Viveka and Rucita these lamps are a symbol of protection and guiding light, inspired by their combined Indian and South African heritage. The lamps are made in partnership with Monkeybiz bead artists, each bead is individually placed on and finished with a resin coating and a protective lacquer spray. Finished with an exposed industrial bulb, each lamp is available in two sizes. 
Made in: South Africa
Composition: Glass beads, MDF, Felt Base
Dimensions
M: W 10cm | H 17cm | D 5cm
L:  W 10cm | H 21cm | D 5cm
Maata Light Navy & Orange
ABOUT ANANTA DESIGN STUDIO
Founded by two sisters in Cape Town, Ananta is a fun and creative design studio that started during the Covid 2020 lockdown. Inspired by the local crafts found on street corners of Cape Town, their pieces celebrate their community and their Indian and South African heritage. The sisters form reimagined creative pieces full of colour, and joy.
Size Guide
This size guide should be used as a guideline. Sizes may vary due to individual variances that may affect sizing. For information specific to the product, please refer to the product details on the product's page.
Should you require further assistance, please email Customer Care at customercare@merchantsonlong.com or call our Customer Care Line 083 556 0128, Mondays to Fridays 9am – 5pm. Emails sent on public holidays or over the weekend will be answered the following business day.
WOMEN'S APPAREL
XS
S
M
L
XL
XXL
UK
6
8
10
12
14
16
US
2
4
6
8
10
12
Combined Sizes
S - M      
L - XL      
WOMEN'S APPAREL - Resort & Swimwear
| | XS | S | M | L | XL | XXL |
| --- | --- | --- | --- | --- | --- | --- |
| UK | 8 | 10 | 12 | 14 | 16 | - |
| US | 0 | 2-4 | 6-8 | 8-10 | 12 | - |
| Bikini Top | A | A/B | B/C | C/D | D | - |
MEN'S APPAREL - Coats, Blazers and Jackets
| | XS | S | M | L | XL | XXL |
| --- | --- | --- | --- | --- | --- | --- |
| UK | 34-36 | 38 | 38-40 | 42-44 | 46 | - |
| US | 34-36 | 38 | 38-40 | 42-44 | 46 | - |
MEN'S APPAREL – Shorts and Trousers
| | XS | S | M | L | XL | XXL |
| --- | --- | --- | --- | --- | --- | --- |
| UK | 32 | 34 | 36 | 38 | 40 | - |
| US | 32 | 34 | 36 | 38 | 40 | - |
SHOES – Men's and Women's
| UK | EU | US |
| --- | --- | --- |
| 3 | 36 | 5.5 |
| 4 | 37 | 6.5 |
| 5 | 38 | 7.5 |
| 6 | 39 | 8.5 |
| 7 | 40 | 9.5 |
| 8 | 41 | 10 |
| 8.5 | 42 | 11 |
| 9.5 | 43 | 12 |
| 10.5 | 44 | 13 |
| 11.5 | 44 | 14 |
| 12.5 | 46 | 15 |
BABY APPAREL – Tops and Bottoms
| AGE | HEIGHT (cm) | CHEST (cm) | WAIST (cm) |
| --- | --- | --- | --- |
| 1 – 3 Months | 62 | 43 | 44 |
| 3 – 6 Months | 68 | 45 | 46 |
| 6 -9 Months | 74 | 47 | 48 |
| 9 – 12 Months | 80 | 49 | 50 |
| 12 – 18 Months | 86 | 40 | 51 |
| 18 – 24 Months | 92 | 53 | 52 |
| 24 – 36 Months | 98 | 55 | 53 |
BABY SHOES
| AGE | UK | EU | US | Measurement (cm) |
| --- | --- | --- | --- | --- |
| 0 – 3 Months | 0 | 16 | 1 | 9 - 10.7 |
| 3 – 6 Months | 1 | 17 | 2 | 10.8 – 11.6 |
| 6 -12 Months | 2 | 18 | 3 | 11.6 – 12.2 |
| 12 – 18 Months | 3 | 19 | 4 | 12.4 - 13 |